Trade mission heads south to promote barley
When most people hear "Mexico", they think of surf, sand and sun. For those taking part in a recent agricultural mission to that country, however, it was all about heating up the market for Canadian barley and other grains.
Along with commodity groups representing oats, flax and pulses, as well as government and private companies, Alberta Barley visited three cities in Mexico over five days. According to Paola Zaragoza of Alberta Agriculture & Rural Development, who was the Alberta lead in planning and executing the trip, they had three main objectives.
"Apart from increasing awareness of Alberta ingredients for both humans and animals, and identifying business opportunities, we were there to help exporters establish or expand their market presence in Mexico," said Zaragoza.
Striking a Match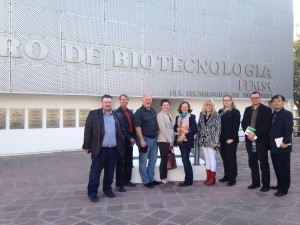 Those were ambitious goals, but they didn't call the mission "Harvesting Solutions" for nothing.
In each city, they organized face-to-face meetings between Canadian exporters and Mexican buyers, or what Zaragoza referred to as "speed dating for business".
But that was just the beginning. While the tourists worked on their tans, members of the mission were burning the midnight oil.
"We offered informational and technical seminars on food ingredients and animal feed to educate Mexican processors about the possible applications," said Zaragoza.
To top it off, there were press conferences with Mexican chefs promoting barley, flax, oats and pulses as keys to a healthy diet, and even a visit from the Canadian ambassador.
Fanning the Flames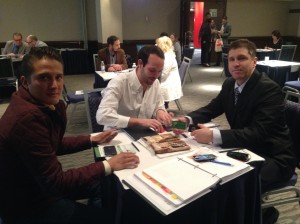 Some trade events can get so caught up in the "what" that they lose sight of the "why". In this case, participants kept their eyes squarely on the prize.
"Of all the missions I've been involved with, this one tapped the most potential and enthusiasm," said Matt Sawyer, past chairman of the Alberta Barley Commission.
"We would sit down with a prospective buyer and suddenly they're asking when you can deliver to them and how much."
Following the presentations on how we produce crops in Canada and the many health benefits of our ingredients, Sawyer was struck by the reaction.
"People were coming up and thanking us for sharing our story. They wanted our products and were ready to do business."
In a way, that's not surprising.
"Mexico was the perfect venue for this mission as they have a lot of issues with obesity and diabetes," said Sawyer. "There is a growing interest in healthy eating and a desire for nutritious, fat restricted ingredients. Thanks to its low glycemic index, barley is the perfect fit."
So maybe the response wasn't a complete shock, but it still gave Sawyer a real charge.
For me, it was an eye-opener. I was gratified to see immediate, tangible results from our hard work."
Opportunity that's Hard to Knock

What were those results? Sawyer is glad you asked.
"For Alberta, we're estimating $4 million in annual sales as a result of this mission."
In fact, Zaragoza said they were so well received in Mexico by industry and media that they're talking about hosting a group of Mexican buyers in Canada this summer.
"To participate under the Canadian banner but with an integrated and coordinated approach was very special. Through this mission we have enhanced Alberta's profile as a leading and reliable supplier of barley, pulses, oats and special crops in the Mexican market."
Okay, they rarely got to see that Mexican sun, but so what? Thanks in part to their efforts, the future for Canadian producers has never been brighter.