SIAL Food Show: An Exchange of Ideas
Alberta Barley's region one director-at-large Glenn Logan and communications manager Cole Christensen were in Paris, France this past week for the SIAL food show. With over 6,000 exhibitors, SIAL is one of the largest gatherings of countries, food distributors and importers/exporters in the world.
When you are on a trade mission for Alberta Barley, the most important element of the trip is to provide value for our farmer members.
Traditionally, this is done through the exchange of commodities, networking for exporter contacts, and establishing relationships in new markets. While we've been hard at work on that part this week (with a blog on that coming next week), there's another way to boost the bottom line: the exchange of ideas.
One of the most valuable things that Glenn and I have learned this week is the importance of innovation, and seeing what's working around the world. As you'll see below, we've been inspired in a lot of ways.
Morocco, much like its neighbours in the region, relies on barley imports in order to get by. However, that doesn't stop them from actively consuming this ancient grain and incorporating it into their diets on a regular basis.
As is the case with traditional foods, entrance into the market can be a challenge. One of the most prolific traditional foods in Morocco (and throughout the Middle East/North Africa) is couscous—which is made by steaming granules of durum wheat. We were pleased to see that barley has found a way to penetrate this market by simply substituting the durum wheat granules with barley grain. We found that the barley couscous demand is starting to gain a lot of steam because it's rich in fibre, healthier for you, and has a richer nutty taste that works well as a complimentary dish.
Another new and exciting way to use barley was on display in the Polish section of the SIAL exhibition from the company. Their barley cup exhibit was a busy one, as people were going crazy over this hot drink that substituted coffee grounds for barley grounds. This branded "coffee alternative" had the similar desired taste without the caffeine, which made it valuable for parents who want to serve it to their children. As the owner of the company told us, her daughter always asks for her "coffee" in the morning too, and now she can have it!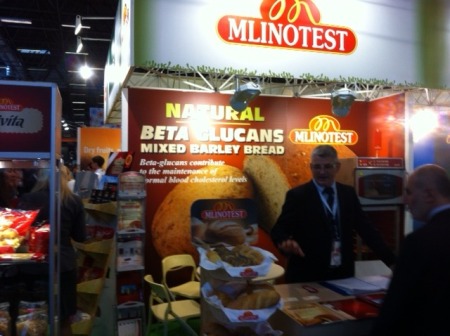 Sticking with the Eastern European market, we were thrilled to see that some of the health claim information that we've been using at GoBarley.com has also taken hold in, of all places, Slovenia.
This Slovenian pasta and baked goods processor and retailer, called Mlinotest (click here for more information), has been testing the market for their mixed barley bread and chose the SIAL food show to go public with their healthy ingredients, healthy bread message.
As you can see from their booth, Mlinotest has chosen barley's good news story regarding beta glucans (and their positive impact on cholesterol levels) to make a compelling case to the health conscious consumer. What also helps their case is the fact that their bread is light, flavourful and delicious.
We were very excited to "talk shop" with the company's owner and director of marketing to address the challenges, and talk about the potential of food barley products in our respective markets. We will be keeping a close eye on our new friends to monitor, and hopefully duplicate, their success.
As you've been able to see from these images, barley is being used throughout the world in innovative and exciting ways. While we are starting to scratch the surface in Canada, our appetite for these new ideas is unlimited–and that's why we'll continue to seek them out.
The world is a big place, and everyone is trying to figure out what works for their products, their market and their farm. You never know what big opportunity you'll stumble on to—simply by being open to it.
That's why trade missions like these are so important. The opportunities are there, you just have to look in the right place.
Until next time,
Cole