Quality over quantity
If one word could sum up the 2015 growing season, it would be "unpredictable."
For farmers across Western Canada, 2015's unco-operative weather made for a suspenseful crop year—one that left many worried that their crop might not make it to harvest, especially in the case of malt barley.
While it is normally a rewarding crop to grow, malt barley can be sensitive to extreme weather and a tough growing season. However, according to the Quality of Western Canadian Malting Barley Annual Harvest Report, malt barley proved to be resilient and survived 2015's unpredictability.

Inside the report
Created by the Grain Research Laboratory (GRL) at the Canadian Grain Commission (CGC) and the Canadian Malting Barley Technical Centre (CMBTC), this annual report (available at grainscanada.gc.ca) provides marketers and buyers with an in-depth look at malt production and quality in Western Canada.
Marta Izydorczyk, research scientist and program manager with the CGC, explained that the results of this report also show how the demand for malt barley and select varieties is changing. This is information farmers can use, in conjunction with the yield data, to make the best varietal choice for them.
"This year, our survey was based on 62 composite samples that represented more than one million tonnes of barley selected for malting," Izydorczyk said.
Samples are provided by grain handling and malting companies, which allows the GRL and the CMBTC to create a malt harvest report complete with weather conditions, specifi c characteristics (starch, protein and germination levels), seeded varieties and overall varietal yields.
Up-and-coming varieties
The 2015 barley harvest in Western Canada was an estimated 7.78 million tonnes, and, for the most part, malt barley acres were seeded with two dependable varieties: AC Metcalfe and CDC Copeland. In fact, these varieties of choice occupied a combined 73.9 per cent of Western Canada's malt barley acres.
Although AC Metcalfe and CDC Copeland are staple malt varieties in Western Canada, a few new varieties are growing in interest among farmers and, more recently, the malting and brewing industries as well.
"Bentley, CDC Kindersley, AAC Synergy are becoming more popular," Izydorczyk said. "I think we will probably see more and more interest in new varieties. I have the impression that we are going to see a much higher percentage of acres grown with these varieties."
Wade McAllister, an Alberta Barley delegate and farmer from the Penhold area, has a growing interest in these new varieties too. "Synergy looks like it is going to be the new up-and-coming variety," he said. "Rahr is looking at getting some more acres in of Synergy, so we are looking at putting some in next year."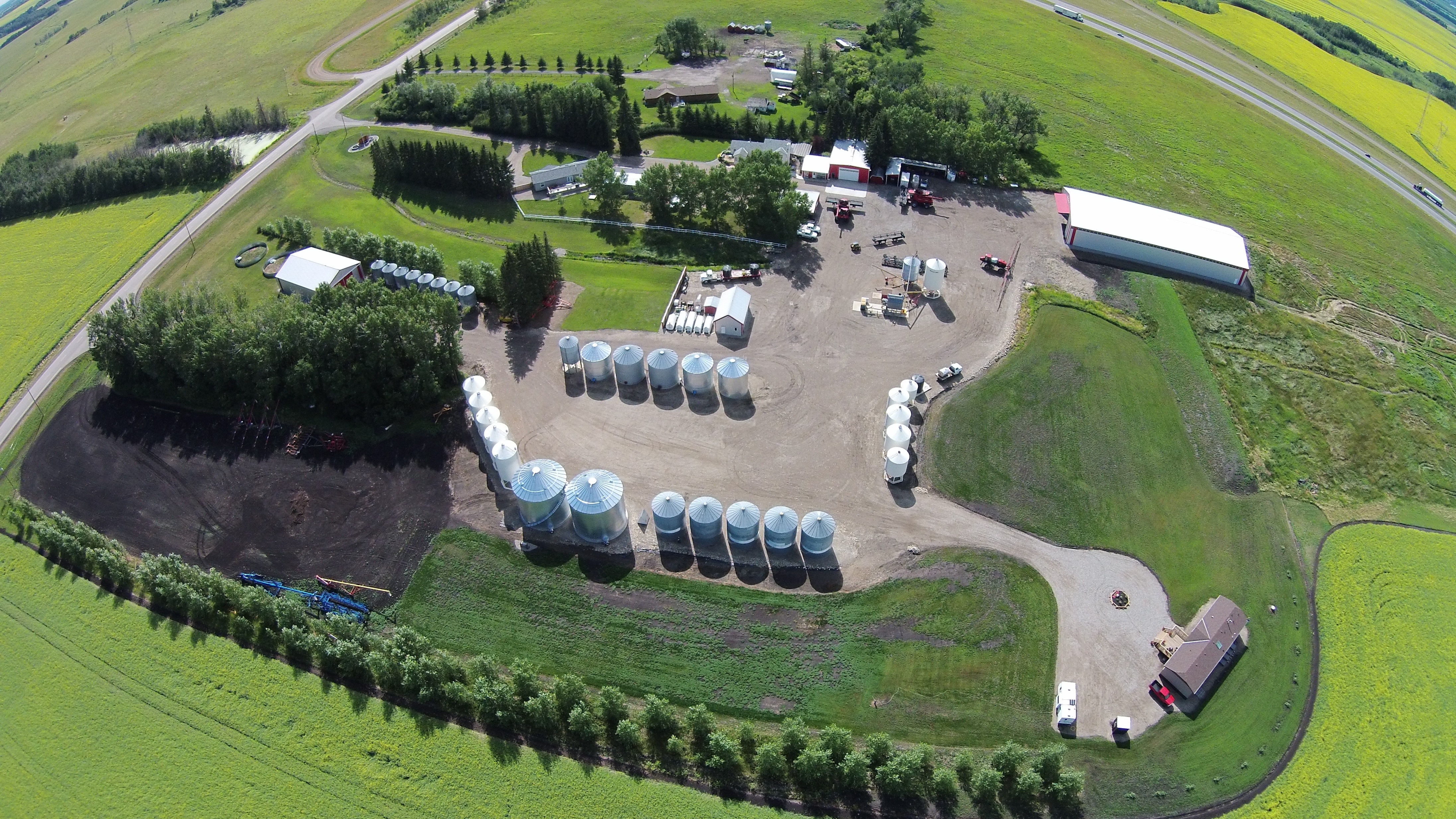 The McAllister family farm near Penhold, AB.

Quality and price
In terms of quality, malt barley from the 2015 harvest was a bit of a mixed bag. Harvest samples showed some signs of pre-harvest sprouting and higher-than-average levels of protein—less than ideal characteristics for malting.
Peter Watts, managing director of the CMBTC, explained that the late-August and early-September rains caused sprouting, which downgraded the quality of barley. However, "anything that was harvested before the rains was relatively good quality and, in some cases, very good quality," he said. Malt barley harvest report sheds light on the 2015 crop year The Quality of Western Canadian Malting Barley Annual Harvest Report is available at grainscanada.gc.ca albertabarley.com
Malcolm MacDougall, who farms near Champion in southern Alberta, knows first hand the damage harvest-time rain can cause. "If you get rain at the wrong time and your malt barley turns to feed, it goes from one of your best-paying crops to one of your worst-paying crops," he said.
MacDougall said his malt barley was much better than expected, despite the drought conditions that occurred to varying degrees throughout the province in 2015. "We weren't expecting a lot from our barley. It was a hot and dry summer, then we had a lot of rain and hail."
McAllister also experienced issues with rain when harvesting his malt barley. "Harvest was challenging towards the end," he said. "We try to get our malt off before the rain . . . so we can make malt."
Luckily for McAllister, he was able to get the barley off the field before the rain came—and luckier still, all of his barley made malt. "The quality was excellent, probably some of the best barley we have ever grown," he said. "Proteins were low, plumpness was good and the yields were incredible."
Despite the unpredictable weather, MacDougall and McAllister were not alone in their results. The 2015 malt harvest had higher-than-average kernel weight and plumpness, high extracts levels, good germination and slightly above-average yields and acres (a 12-per-cent increase over the previous year).
In addition to yields and acres increasing, demand for malt barley only continues to grow—and the price forecast looks promising.
"I think the demand should remain strong for malting barley because supplies are tight," Watts said. "We should see prices as relatively strong in 2016, at least early in the season, as producers are making seeding decisions."