Cashing in on contracts: Malt contracts are changing how farmers market their barley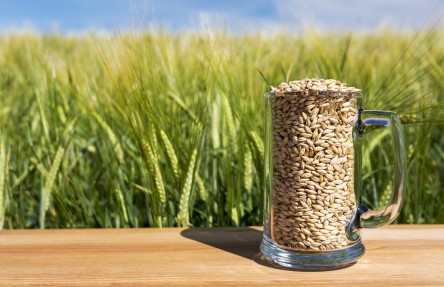 Growing any crop carries risk. From the time seeds are planted until harvest season, any number of things can happen that could reduce the value farmers will get for their production. Add to that the uncertainty of markets following harvest, and producers have a lot to worry about.
For malt barley, however, the times are changing. The introduction and growth of malt barley contracts in Alberta has changed how farmers market their malt.
For Wade McAllister of Antler Valley Farm north of Innisfail, contracting malt acres has taken much of the worry o his mind. "Our biggest thing is having that barley locked in for a set price for the next three years," he said. "That just takes care of our marketing for our malt."
Robert Chappell, director of grain with Canada Malting in Calgary, agreed. "If you're going to be growing malting barley, you better have a marketing plan," he said. "That's what a production contract does."
For farmers without a contract, marketing often happens near the end of harvest. Once the malt quality has been assessed, they work to find a maltster in need of product.
On contract, however, that marketing happens before seeds are even planted.
Generally, maltsters approach farmers to discuss the possibility of growing on contract. If a farmer can show consistent yields and quality in their malt acres, they have a better chance of being picked up for a contract.
It's not just farmers who benefit from contracts. They are a win-win for farmers and maltsters alike.
"It gives us acreage and barley security," said Kevin Sich, grain department manager with Rahr Malting in Alix. "We cannot run these plants without knowing there's barley being seeded."
On the other side of the malt barley chain are customers, such as breweries, looking for quality malt with sets of specifications unique to their product.
"Contracts allow us to contract the right varieties that our customers need, and I think that's a benefit for us," said Chappell.
Of course, it's not all easy. While contract growing, compared to traditional marketing techniques, is virtually risk-free, there are some precautions both farmers and maltsters have to take.
"We have to watch where we position our acres," Sich said. "We have to risk-manage our acres and where we put them."
Maltsters, including Rahr and Canada Malting, also make an effort to mitigate risks on the side of the farmer. One of the biggest risk management tools available to farmers is an "act of God" clause, which offers protection in situations where crops suffer weather damage.
The benefits of contracts are not restricted to marketing either. Contract growing through a maltster helps farmers develop relationships with end users they normally do not have the opportunity to connect with.
Scott Keller, who farms in New Norway, is an original member of
the Chinook Arch Growers, a group of farmers contracted by Lagunitas Brewing Company in Petaluma, California. The brewery worked with Rahr to select the original group of six producers, which has expanded to include 15 farmers today, in order to meet Lagunitas' demands for quality malt barley.
"It's fascinating … it's fun to get some face time with brewers," Keller said. "These guys are passionate about what they're doing and it's just fun to interact with these guys.
"They're basically making some of the best beers in the world, and the fact that we grow one of their main ingredients, there's a sense of pride there."
Breweries require large amounts of malt to make beer, and for those adhering to craft brewing standards, the amount of malt needed is approximately four times higher than it is for popular macrobreweries.
McAllister also grows malt barley for a major brewery in the United States, a relationship co-ordinated through Rahr. Alberta and parts of the U.S. have experienced a "craft beer boom" over the past several years, leading to increased demand for quality malt.
"Ever since the boom happened, all these contracts have started happening," McAllister said. "They can get that supply. No matter what, the brewery we grow for gets 1,000 tonnes of malt from us a year."
Sich said he believes the growing "drink local" mentality has also driven this desire for traceable malt. "The smaller craft guys are more regionalized, so they have a lot more interest in getting to know where their supply comes from, with the farmer," he said. "I think that comes from the local consumer."
When it comes to the future of malt contracts, Sich said he thinks the future is now. "Growers take on so much risk when growing malt," he said. "Why would you want to take on more by not even trying to figure out a home for it?"